HAZELL DEAN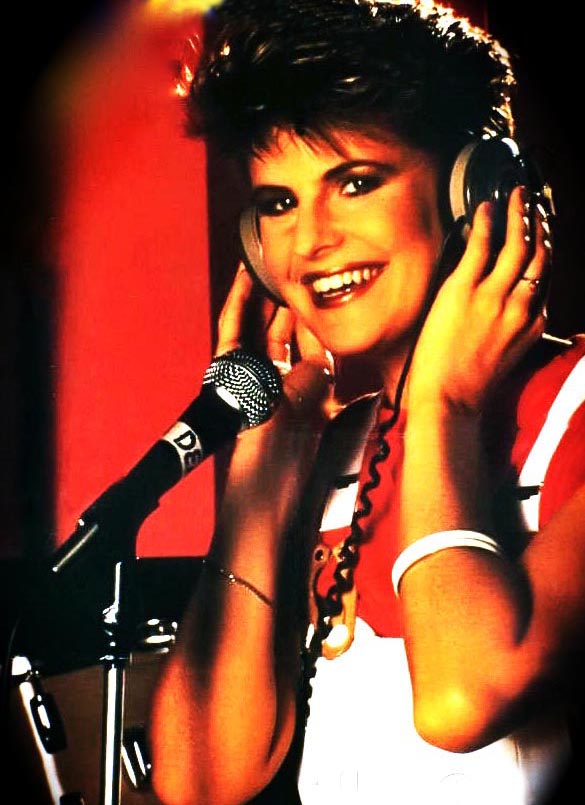 Ha iniziato la sua carriera nella metà degli anni 1970 è venuta alla ribalta nel 1980 dopo molti anni ha lavorato in alcuni club col suo marchio Hi-NRG. Heazel Dean è stata eletta tre volte come "Best Live Performer" dalla "Federazione dei Club e discoteche americane", e due volte come "Best British Performer " di "Club Mirror Awards" (UK). Ha partecipato due volte al concorso Una canzone per l'Europa. Nel 1976 ha preso l'ottavo posto (su dodici), con la ballata, "I Couldn't Live Without You For A Day", scritta dal veterano Paul Curtis. Dopo un po' di tempo, ha messo a piazzato la sua prima hit nella Top 10 con la riedizione di "Searchin '(I Gotta Find A Man)", che ha raggiunto la posizione # 6. I follow-up "Whatever I Do (Wherever I Go) " prodotto da Stock Aitken Waterman, nel mese di agosto 1984 ha
raggiunto la posizione # 4. " Whatever I Do " è stata originariamente registrata da Michael Prince come "Dance Your Love Away", ma la canzone è stata ri-scritta da Mike Stock & Matt Aitken perché Dean piacevani i cori. Inoltre uscirono altri singoli dall'album, "Back In My Arms (Once Again)" e "No Fool (For Love)". Dal suo secondo album, "Always" They Say It's Gonna Rain ", raggiunse la posizione # 58 nella UK Singles Chart, anche se ha ottenuto un 1° singolo in Sud Africa con questo singolo prodotto da Stock, Aitken & Waterman. I successivi singoli sono andati peggio con "ESP", "Stand Up" e " Always (Doesn't Mean Forever) " hanno a raggiunto solo la UK Top 75. All'inizio del 1988 tuttavia, ha raggiunto il suo più grande successo in quattro anni con "Who's Leaving Who", che ha raggiunto # 4. Il follow-up, "Maybe (We Should Call it a Day)", al # 15, e "Turn It Into Love" (che è stato originariamente registrato da Kylie Minogue e incluso nel suo album di debutto, Kylie) ha raggiunto solo la posizione # 21.
---
Discografia:

Album

1981 - The Sound Of Bacharach And David
1984 - Heart First
1988 - Always
1995 - The Best Of Hazell Dean
1996 - The Winner Takes It All/Hazell Dean Sings Abba
2012 - Evergreen: The Very Best Of Hazell Dean
2013 - In The Name Of ...

Singoli

1975 - Our Day Will Come
1976 - I Couldn't Live Without You For A Day
1976 - Got You Where I Want You
1976 - Look What I've Found At The End Of A Rainbow
1977 - No One's Ever Gonna Love You
1977 - Who Was That Lady
1981 - You Got Me Wrong
1983 - Stay In My Life
1983 - Searchin' (I Gotta Find A Man)
1984 - Evergreen/Jealous Love
1984 - Searchin' (I Gotta Find A Man) (Reissue)
1984 - Whatever I Do (Wherever I Go)
1984 - Back In My Arms (Once Again)
1985 - No Fool (For Love)
1985 - They Say It's Gonna Rain
1986 - ESP
1986 - Stand Up
1987 - Always Doesn't Mean Forever
1988 - Who's Leaving Who
1988 - Maybe (We Should Call It A Day)
1988 - Turn It Into Love
1989 - Love Pains
1991 - Better Off Without You
1993 - My Idea Of Heaven
1994 - Power And Passion
1996 - The Winner Takes It All
1997 - Searchin' 97
1998 - Sisters Are Doin' It For Themselves
1999 - Living On A Prayer
2001 - Who's Leavin' Who 2001
2004 - Searchin' 2004
2011 - They Say It's Gonna Rain 2011
2012 - In The Name Of Love
2012 - Shattered Glass